I ordered Rosetta Stone yesterday. Yes, I'm anxiously awaiting the following to arrive: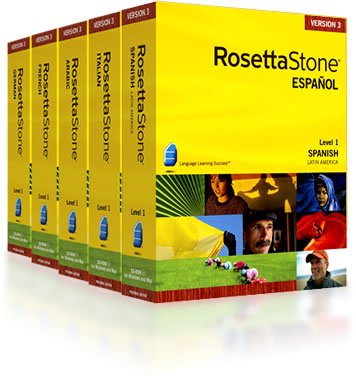 and yes, to arrive at Minda's, because I am still searching for somewhere to live. So, let me pause to tell you a little bit about my school and how this decision to get Rosetta Stone fits in with everything about it.
I love my school and staff. Seriously. LOVE. They are wonderful, and I am just impressed everyday and learning everyday at work. It's just a great feeling to be happy at school. There's so much to get done, but I don't feel overwhelmed by it all. We went on a retreat to Big Bear this week, and I had a wonderful time getting to know everyone.
My school is called KIPP Comienza Community Prep (KCCP). KIPP stands for the Knowledge Is Power Program.
KCCP, as the name suggests, is a community school. As our vision states:
KIPP Comienza Community Prep is built on the belief that great schools and strong relationships transform communities. Through rigorous standards-based instruction, character development, and learning experiences beyond school walls, our elementary students will become active leaders who take pride in their community and have access to choice and opportunity in order to ignite transformative change.
Ignite. I love that word.
(My painting is on the left top, and it says, yes, you guessed it, "ignite.")
KCCP has no rules. Yup, no rules (trust me, this made me nervous at first). Reason being? We have values instead. Think about it: Rules can be broken, skirted around, and in general, are just very restrictive. There's always a way to get around a rule, and rules change constantly based on teachers, locations, and age (yes, we all know there are some rules that you have when you are 5 that you don't have when you are 25). However, values are universal--we use them all the time, and they translate over from school to home, from kindergarten to high school to post-college.
The four values of Comienza are:
Now I had no idea until this week what they really meant, and I'm still learning, but let me try to explain the values to you using Rosetta Stone as my example.
I showed courage by taking the first step in ordering Rosetta Stone to help me improve my Spanish. However, I can't just be courageous and order it...and then never use it. I need to show ganas by practicing and working regularly on my Spanish. I need to talk to parents and students--I need to keep going even though it won't be easy, and I need to keep going with ZEST! :) The reason I made this choice was to honor families and students, the community, of KCCP. I know that many of my parents speak Spanish, some only speak Spanish, and I want to show honor to them by trying to be able to communicate in the language with which they are most comfortable. ...and throughout it all, I will not just forge ahead without reflecting on why I am doing this and the impact it is having. If I find I am making mistakes or struggling, I will show courage and ask for help.
The staff I work with is inspiring--so inspiring that I ordered Rosetta Stone. No joke. I want to be the best teacher I can be, and while I know there are great teachers who not speak Spanish, I think it will help me be a better teacher. If I am able to communicate with my families and students more, then I can connect with them even more. It's a scary step to take--I get sooo nervous when I speak in Spanish, and I think I've been avoiding it for a while now, but I'm going to try!!